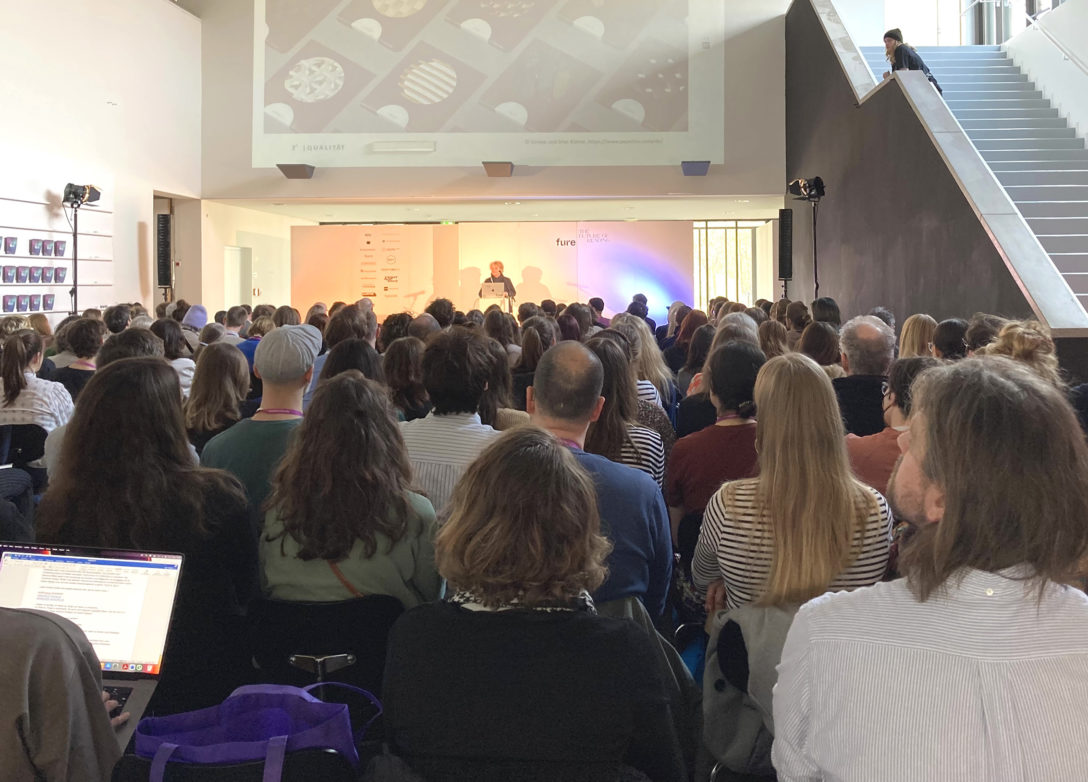 At "fure"/The Future of Reading
Just because it's peak season in the reporting business, doesn't mean we are missing out on anything new and exciting. In March, we visited the fure design conference on the future of reading – 10 hours. 13 contributions. 200 designers, media professionals and creatives. Our impression: The topics and participants were refreshingly diverse. The atmosphere was stimulating and open – and so were the in-depth discussions and networking.
Pace and topics
17/03/2023, 10.30 a.m. Münster School of Design (MSD)/Münster University of Applied Sciences. Let the fun begin! 200 designers, media professionals and creatives have come together at the MSD hall, where for the next 10 hours they followed 12 talks and a panel discussion live with content-rich presentations. And there's something about the pace: speed dating with interesting people and numerous ideas on how the digital age may change us.
Already equipped in advance with a delightful eco-bag full of reading material. That's what today's topic is all about: reading. Whether on screen or on paper, a story or newspaper item, an opinion tweet or travel blog – Prof Rüdiger Quass von Deyen and Patrick Marc Sommer, along with their co-presenter Prof Ralf Beuker, are all looking forward to ushering in the fourth round of fure.
Media and attention

The platform combining theory and practice works. As the program booklet says, "It's not just what we read that changes us, but how we read it." And that brings us right into the thick of things with the memory effect of Hapticals and reading as a cultural technique and perception process. We learned that 4% of reading is vision and 96% other brain processes. We also heard that we absorb more details when reading digitally but remember vocabulary better when reading on paper. We experienced transmedia media concepts and found confirmation that print content cannot simply be placed in a digital environment.

Dedication and kindness
There is one thing we happily noticed right away: each speaker glowed with enthusiasm about what they were doing and about the chance to present this to the audience. We haven't experienced this much dedication in practice for a long time. So much determination and drive for quality and making media ready for the future – and all this in what is still a new environment. Could it be that we are among our own here?
And dreaming away on the train heading home we wonder, "Wouldn't it be wonderful if the reporting world also had such a lively, open and collaborative platform? A platform where solutions are developed together and "smart" is discussed before "hasty" and "clever" before "cheap" …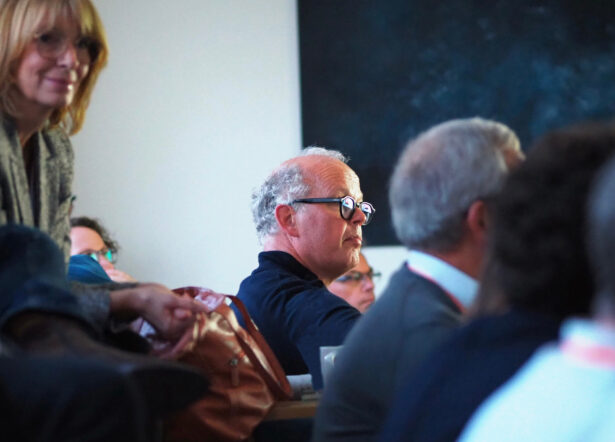 It's less and less about the narrative, and more and more about the facts. Under this motto, around 30 participants at the HGB event "sustainability – it counts" discussed why the future of sustainability management and communication will be about stringency, substance and transparency. After a lively day full of exchange, interaction and insights, employees, clients and representatives of HGB's partner companies all agreed that the pilot project had been a success and would like to see it repeated next year!
Mehr erfahren